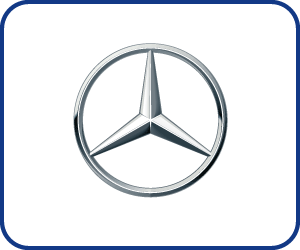 When you reach the home page: Click the link at the top of the page to change the language to English
Blue buttons below are for navigation. Mercedes-Benz are restricting access unless you have an EV certificate.
Below are subscription fees and links to information. As required by law, AASRA maintains subscription information for each brand. If you find that this pricing does not match the automaker's website please contact AASRA by clicking the Missing Information Report and providing details.
General process
In order to access Repair and Maintenance Information via the Mercedes-Benz B2B Connect platform, you must be registered with AASRA as a technician with EV certification. The B2B Connect platform contains a considerable amount of high voltage safety information. Once registered with AASRA with an EV certification, then register with B2B Connect.
Once you are registered with both AASRA and B2B Connect, you will be able to review the product offerings and information on the B2B Connect platform. Once you have decided on the desired products, select the shopping cart tab and you will be put in contact the B2B Connect team.
The B2B Connect team will then liaise with you to complete the registration process, take payment and provide access to the desired products.
Digital Service Booklet
If you require access to fill out the Mercedes-Benz Digital Service Booklet (DSB), this can be done free of charge via the Mercedes-Benz B2B Connect website without the need for AASRA registration.
Theft Relevant Parts
There is no vehicle specific security information (e.g. key codes, radio codes) stored within the B2B Connect platform.
Theft relevant parts are sold via our authorised spare parts network and are pre-coded for the vehicle in question.
Please contact your preferred Mercedes-Benz Service and Parts Retailer for information regarding the theft relevant parts ordering process.
Service Information (WIS) Access Fee
Daily

A$97.27+

Weekly

A$304.55+

Monthly

A$779.09+

Yearly

A$3626.36+
ASRA (Time Guides)
Day

A$57.27+

Week

A$168.18+

Month

A$484.55+

Year

A$2076.36+
TIPS
Day

A$30.91+

Week

A$60.91+

Month

A$130+

Year

A$490.91+
XENTRY Diagnostic Kit 4 (includes 1 user software)
1 Day Lease

A$511.82+

1 Month Lease

A$1028.18+

I Year Lease

A$6413.64+

Other

POA
Parts Information subscription